Hologram 1.3.0 Released
December 8, 2020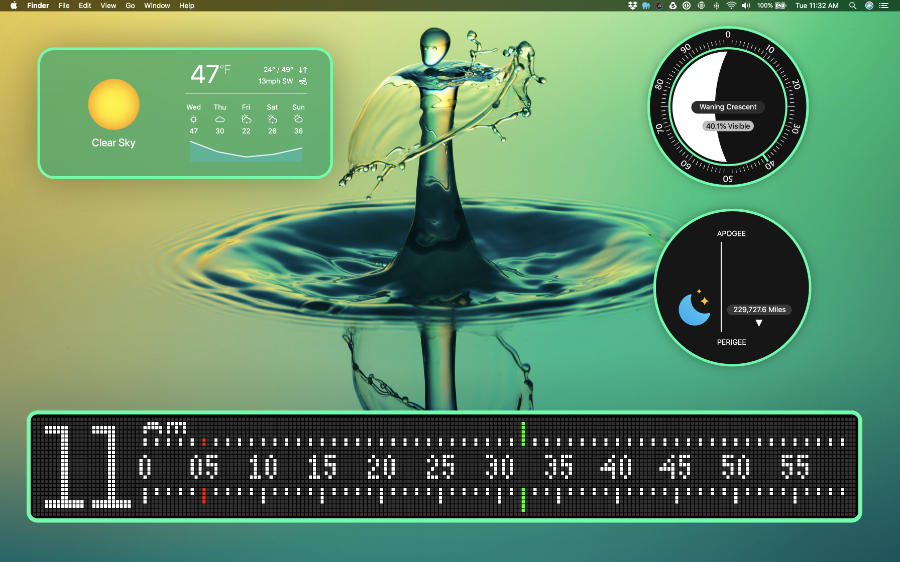 That earth-shattering kaboom you might have heard was the release of Hologram 1.3.0! This version brings 5 great new widgets, lots of small feature improvements, and a few bug fixes.
New Widgets
We have 5 great new widgets to announce:
* The 3 widgets with asterisks are available exclusively as downloads on our widgets page. To install them, just unzip the downloaded file and drag it onto the widgets page in Hologram.
Improved
Added Temperature chart and more forecast options to Modern Dashboard Widget
You can now see which wallpapers have already been added to your theme on the discover page
Added a "Get More Widgets" button to the widgets page. You can now find more widgets on our website! Several new widgets have been added!
You can now right-click on a wallpaper to show it in the finder, make it active, or delete it
Pressing escape when renaming a theme now reverts the change instead of saving it
You can now name themes from the themes page, right-click on the theme, and select rename
Fixed
Fixed missing freezing-rain and squall icons in the glass icon pack
Fixed a bug where deleting the active theme would not remove the widgets from the desktop
Fixed the UI colors when the accessibility setting "Increase Contrast" is enabled
For Widget Developers
Added new hologram util API: formatTime
Added new hologram timer API: everyHour
Added new hidden attribute to widget settings
Added ability to disable widget settings based on other settings
Added coordinates API
Added public IP API
Enabled Vue JS warnings in the widget dev server
We hope you enjoy this new version!... and please tell your friends about Hologram!